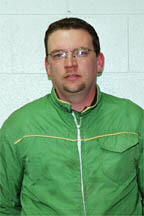 MORE LEBANON TRAINERS
| | | |
| --- | --- | --- |
| Sam Coven | Joe Essig Sr. | Victor Gray ll |
| Justin Hall | Chris McGuire | Randy Owens |
| Roy Wilson | Calvin Wright | |
Chris McGuire
Chris is training horses on a full time basis since Fernbrook Fiasco N entered his life. He was working full time for an automobile making company and training a couple of horses as a side job. Sent to him by owner Craig DeLong, Fernbrook Fiasco won many prizes for McGuire and helped him start doing what he loves: training horses.
Sam Coven
Sam is a very successful horse trainer. He was born in a harness racing family, his father was Herb Coven Jr. who won multiple titles in Lebanon and Latonia competitions. Sam Coven was a horse driver before his father died of cancer, and for the last 2 decades he trains horses. His best trained horse was Compass Connection which was bought by his mother, and won all five preliminary legs as a two year old.
Victor Gray II
Victor Gray II was an insurance agent and in addition, he used to go to horse driving competitions. He had a stable when he bought the horse that would bring him 4 successes in a row. He went through a very sad moment in his career and life in 2009 when he lost his barn, 43 horses and two men to a devastating fire. He recovered from the incident and now he trains horses, living his passion for the sport.
Justin Hall
Justin Hall, horse driver and trainer had suffered a very dangerous accident on track in 2009, when he was racing. Unfortunately this type of accident is rather common in the world of harness racing. Sometimes drivers even lose their life on the track. This wasn't the case of Justin Hall. Even if he suffered brain damage and went in a coma, he recovered and today he is continuing his successful career driving and training horses.